Mohawk Steelworkers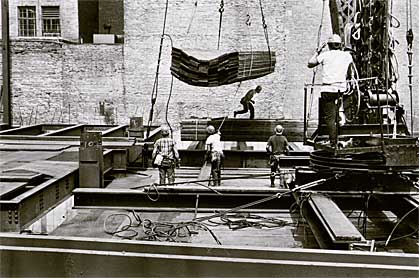 In 1970, I made a series of photographs of Mohawk ironworkers at a building site on Park Avenue and 53rd Street in New York City. At first, with construction just getting off the ground, I was able to take pictures from the sidewalk. Later, I met members of the construction gang and learned they came from the Kahnawake (then known as Caughnawaga) Reserve on the St. Lawrence River near Montreal, Canada. Click on the images to view larger versions.
The Kahnawake Mohawks began working the high steel in 1886 when the Canadian Pacific Railroad contracted the Dominion Bridge Company to build a cantilevered bridge over the St. Lawrence with one end of it on their land. They quickly excelled at this new type of work. Most became riveters, a dangerous but high-paying specialty. The riveting gangs apprenticed new young workers from Kahnawake and as their numbers grew they began building bridges and tall buildings in many cities across Canada and the United States. Ironworking soon became an essential part of the community's economy, and pride.
By the 1920s, Mohawk riveting gangs were turning up in New York City where they worked on the Chrysler Building, Empire State Building, George Washington and Verazano bridges, and many other buildings that have become icons in American architecture. The Mohawks I photographed went on to the World Trade Center.
Usually, after work on Fridays, they made the long drive to Kahnawake to spend weekends with their families. Sunday nights, they drove back to Manhattan, arriving at the building site in time for work on Monday. During the week, they lived in the North Gawanus neighborhood of Brooklyn, often referred to as "Downtown Kahnawake" or "Little Caughnawaga." A local hangout kept Canadian ale in stock, displayed a picture of Jim Thorpe, and hung a sign over the door saying "The Greatest Iron Workers in the World Pass thru These Doors."
I developed friendships with the ironworkers I met and shared the pictures I was taking. When the building at Park and 53rd rose above street level, they invited me to come up with them and continue photographing. I accepted. It was a privilege. They gave me a hard hat and some basic tips, such as Watch your step.
The images displayed here are selected from a more extensive series printed from the original negatives. Please contact me for information regarding possible purchase or publication.